VISIT
---
Come and see why the University of Utah is the right place for you. Tour our spectacular campus or register for one of our special events!
Schedule a VISIT
Get a feel for college life and learn more about the University of Utah!
Important Information Regarding Campus Tours: Due to ongoing concerns regarding COVID-19, the Office of Admissions is cancelling campus tours and information sessions through April 17. For those students who want to learn more about our university, we will soon be hosting virtual admission information sessions that include the opportunity to have questions answered by an admission representative and a current undergraduate student. Check our website later this week for additional information regarding the virtual events, admissions.utah.edu.
For more information on the University of Utah's response to COVID-19 visit dps.utah.edu/coronavirus/.
Welcome
---
Welcome to the University of Utah, a place we like to call Imagine U. Home to an open and welcoming community, world-class faculty and small class sizes. Discover why the University of Utah is the place for U.
Daily Campus Tours
Group Visits & Tours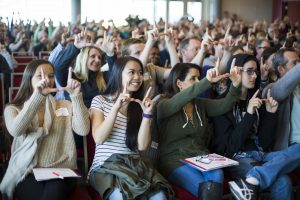 Admitted Student Events
Our admitted students events are starting in February! We have receptions around Utah and the West Coast, as well as our Future Freshman Fridays on campus. Students can register here.
DEPARTMENT TOURS
---
Interested in a particular department or program? Our colleges and departments sometimes offer visits, camps, or other informational and educational programs.