High School University Program & Orientation
Welcome to the U
The High School University Program (HSUP) allows high school sophomores through seniors to take college-level course work at the University of Utah. The program is designed for motivated students to enhance their high school curriculum and get a head start on a college career. HSUP students may participate in any 1000- or 2000-level course, as long as they meet the prerequisite requirements. If you're an ambitious go-getter, this program is for you. Find your purpose and your people at the University of Utah.
Check out our frequently asked questions or contact the program coordinator at hsup@utah.edu to learn more!
Program Requirements
An applicant for the HSUP Dual Enrollment must:
Successfully complete ninth grade.
Be actively enrolled in a Utah high school (or home-schooled). Students cannot be graduating from high school prior to or during the semester they wish to enroll in HSUP.
Meet the minimum GPA requirement developed by the Credits and Admissions Committee

Seniors—3.2 GPA or higher
Juniors—3.5 GPA or higher
Sophomores—3.7 GPA or higher

Submit the HSUP application, $55 application fee and any other applicable fees by the established deadline outlined below (determined by the Office of Admissions)
If a home schooled student, also provide a list of high school level courses completed
If an international student attending a Utah high school on a visa that permits university enrollment, also document English language proficiency with the requisite score on an approved test or meet one of the exceptions approved by the Credits and Admissions Committee. The approved English language proficiency tests and the minimum required test scores are developed by the Credits and Admissions Committee
HSUP Dual Enrollment students are ordinarily restricted to enrollment in lower-division (i.e., 1000- or 2000-level) courses.
Registration for any course above that level must be pre-approved by the appropriate University entity (i.e., the department or other course-offering unit responsible for the course).
If you are a homeschooled student interested in the High School University Program, please contact the program coordinator directly at hsup@utah.edu.
HSUP students must maintain a 2.0 or higher cumulative University of Utah GPA.
If a student's University of Utah cumulative GPA falls below a 2.0 in HSUP courses, they will be dismissed from the program.
HSUP students are required to reapply for each semester they wish to participate in the program.
See "Information and Deadlines" for more information.
The High School University Program is not the same thing as early acceptance to the U.
HSUP is a dual enrollment program offered by the University for high school sophomores through seniors who want to take advanced courses not available in their high school.
If you are interested in early admissions to the U, learn more about the application process and deadlines on the early admissions page.
Please note: Students who wish to attend the U as a freshman will need to complete the standard admissions application.
Application & Deadlines
New HSUP Applicants
Complete the new student online application and pay the application fee.
Submit your official high school transcript by mail, in-person or one of the approved electronic services.
Send the Parent Consent Form.
Returning HSUP Students
Returning HSUP students are students who have previously been accepted to HSUP and have enrolled in courses.
Complete the online Returning Student Form.
Submit your official high school transcript by mail, in-person or one of the approved electronic services (see below).
Submitting Application Materials
By mail or in-person:
Attention: HSUP
Office of Admissions
201 S 1460 E, Rm 250S
Salt Lake City, UT 84112
Email: hsup@utah.edu
Approved electronic services:

Credentials Solutions
Parchment/Naviance
National Student Clearinghouse
eScrip-Safe
Scoir
Spring semester – January 1
Summer semester – May 1
Fall semester – August 1
Current HSUP students who wish to continue with the program are required to complete the returning student form and are required to submit official transcripts with their application.
The $55 application fee is not required.
Admitted HSUP students should watch the HSUP New Student Orientation video and review the HSUP Handbook.
Tuition & Fees
HSUP students receive a discounted tuition rate of $5 for each credit hour in which they enroll in.
Please refer to the 2022-23 HSUP tuition rate schedule below, which is an estimate only and may change due to specific class fees. HSUP students are still subject to class fees, which can be found in the Class Fee section when signing up for classes, and department fees.
It is important to note that HSUP students are not subject to mandatory fees, which means they do not have access to the Student Life Center, campus recreation (e.g., intramural sports, sports clubs, Outdoor Adventure Center), public transit (e.g., UTA Trax, Bus and Frontrunner), university sponsored student activities, athletic events (i.e., student tickets) and some library privileges.
Tuition is paid online and is due approximately one week after classes start.
HSUP students who qualify for the University of Utah staff tuition reduction must complete the application process in order for the tuition discount to be applied to their HSUP tuition.
| | |
| --- | --- |
| Credit Hour | Cost |
| 1 | $5 |
| 2 | $10 |
| 3 | $15 |
Financial assistance via financial aid, grants, and/or scholarships are not available to HSUP students.
Student Status
HSUP students are classified as non-matriculated (non-degree seeking) students.
All policies and procedures that exist for matriculated University of Utah students apply to HSUP students as well.
Participating in HSUP does not guarantee freshman admissions to the University of Utah following high school.
Students interested in attending the U as a freshman will need to complete the standard university application for freshman admissions.
HSUP students can register for courses during open enrollment periods, which are listed in the academic calendar.
HSUP students are expected to complete new student orientation, prior to registering for courses during the open enrollment periods.
Students within HSUP are generating an official university transcript, which will become a part of their permanent academic record.
Admitted Students
Congratulations and welcome to the program!
HSUP students can register for courses starting on the open enrollment dates.
To view the Academic Calendar for all open enrollment dates, by semester or academic year, visit the Office of the Registrar's website.
NOTE: HSUP students are not eligible to enroll in the following activity courses in the College of Health (ESSF, PRT-L, PRT-W, and PRT-S).
Please refer to your HSUP acceptance letter to obtain your CIS account login credentials.
Click the link below to begin the orientation process!
Admitted Students Next Steps
Watch Orientation Video and Review Handbook
HSUP Coordinator
Email: hsup@utah.edu
How We Can Assist You:
HSUP Application Status
Getting your uNID (University ID)
Reapplying as a returning student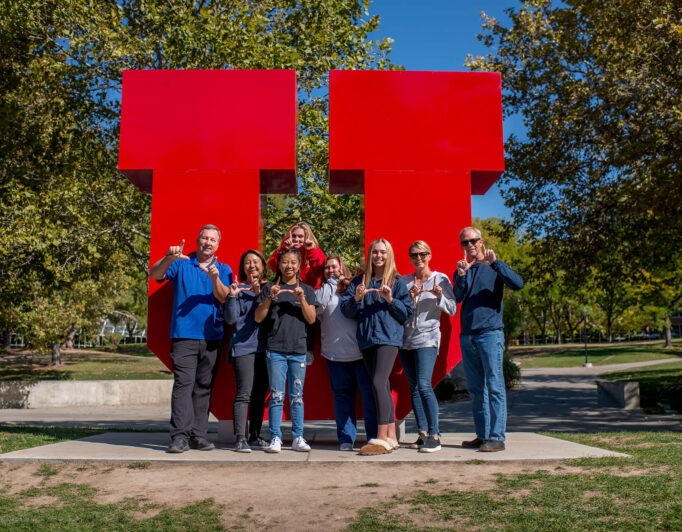 Academic Advising Center
Phone: 801-581-8146
Email: AACReception@utah.edu
Website: appointments.utah.edu
How We Can Assist You:
Course selection
General education requirements
Registration questions (after completing orientation steps)