UNIVERSITY AMBASSADORS
---
Come join us to share your story and help future students navigate the admissions and enrollment process!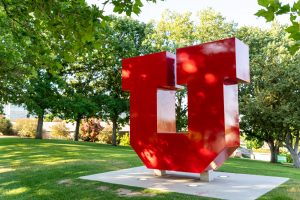 ABOUT US
The University Ambassadors are a selective group of students who share their time and experience with prospective students, parents and other university guests to facilitate and enhance student recruitment for the University of Utah. Ambassadors bring a deeper understanding of the university to prospective students, parents, counselors, and other visitors by sharing their Utah signature experience and providing an insider's perspective of being a student at the U.
RESPONSIBILITIES OF UNIVERSITY AMBASSADORS
University Ambassadors are involved in several recruitment and enrollment activities hosted by the Office of Admissions and our campus partners; the most important being our daily campus tours. Other activities include, but are not limited to, participation in various recruitment programs both on and off-campus, high school visits and group/outreach tours.
QUALIFICATIONS
Persons seeking to become a member of the University Ambassador program should actively demonstrate dedication, enthusiasm, good communication skills, commitment, dependability, responsibility, respect for self and for others, leadership skills, strong academic merit and pride for The U.
Candidates must have a cumulative GPA of 3.0 or better.
University Ambassadors must be able to conduct a walking tour of campus (often walking for up to two hours), stand for extended periods of time, lift around 10-15 pounds, and assist with setup and teardown of recruitment events.
MINIMUM EXPECTATIONS
Students who have previously been enrolled in courses at the University of Utah, but have not yet completed a bachelor's degree and whose enrollment has been discontinued.

Be enrolled as a full-time student (12 credit hours minimum) at the University of Utah
Commit to full participation through at least December 2021*
(Students planning to graduate in May 2020 or December 2020 are not eligible to apply. Additionally, students planning to take a leave of absence beginning Spring 2020 or Fall 2020 must wait to apply for University Ambassadors upon returning to the University of Utah)
Maintain a 3.0 cumulative grade point average while serving as a University Ambassador
Sign and adhere to a contract outlining responsibilities
Attend mandatory training as listed in this application
Attend weekly meetings on Wednesdays at 5:00 PM in the Welcome Center
Plan to work in some caliber in the admissions office for a minimum of 7 hours per week.
Office hours are Monday - Friday 8:00 AM - 5:00 PM. Our tour schedule is Monday-Friday at 10 AM and 1:30 PM, and select Saturdays each month.
Participate in other Office of Admissions programs which include, but are not limited to:
Connecting U (campus visitation program for prospective students and parents)
Bringing the U to You and other student receptions (both on & off-campus programs)
Group Visits and Outreach Tours
Red White & U Admitted Student Day*
Spring Scholarship Reception*
Commencement* (assist with graduation)
High School Visits (currently under development and planning)
* Mandatory for all University Ambassadors. Other programs above will have set minimums which we will explain during training.
BENEFITS
Throughout your experience and service as a University Ambassador, you will experience many personal and professional benefits that go well beyond monetary compensation such as:
Public Speaking and Communication Skills: Being able to communicate information in a clear and engaging way is a skill that will serve you well throughout your life. As a University Ambassador, you will have many opportunities to develop and strengthen these skills by giving tours to many different types of groups of varying sizes, serve on student panels, share your unique signature experience and maybe even be a student keynote speaker at one of our large programs.
Customer Service: Ambassadors represent the University of Utah in a positive, friendly and encouraging manner. You will learn what it means to provide the highest level of customer service, the impact of the campus visit and how to ensure each guest enjoys their campus experience.
Networking: You may never know who is on your tour; you may be showing your future employer around our campus, or giving a tour to a high-profile donor. You will also have the opportunity to meet campus administrators and other dignitaries.
Leadership: Your experience in the University Ambassadors hinges on what you put into it. If you are interested in gaining leadership skills within our program, there are elected positions which manage and govern the organization from recruitment and training, community service and campus involvement.  Additionally, there are select positions with increased hours and responsibilities within our Visitor Support Team and Admissions Information Center who manage all visitor operations and customer service.
Friendship and Memories: At the end of the day, being a University Ambassador is much more than a job on campus; it's a rewarding experience that will create lasting friendships and great memories.
COMPENSATION
University Ambassadors are compensated $10.50/hour. The average daily campus tour lasts about two-and-a-half hours, and other recruitment programs will last anywhere from 3 - 9 hours. Average weekly hours will fluctuate based on the number of tours and/or programs in which an Ambassador participates, but will likely be 7-10 hours a week.
University Ambassadors are permitted to have other jobs, either on or off-campus, and are encouraged to be involved in other campus activities. However, these jobs and activities must not interfere with the various dates, duties, and responsibilities of being a University Ambassador.
CONTACT
If you have any questions about the University Ambassadors, feel free to contact the University Ambassador Leadership Team at univ-ambass@sa.utah.edu.
Be sure to stay up-to-date by following us on Instagram.
location
---
260 Central Campus Drive, Rm 2155
Emma Eccles Jones Welcome Center
(Located in Gardner Commons)
Salt Lake City, UT 84112