HIGH SCHOOL COUNSELOR NEWSLETTER
---
january 2020 Newsletter
---
Hello and Happy New Year!  As spring semesters classes start at the U, we in the Office of Admissions are preparing for what looks to be a very busy semester as we continue to work with your students and their families.  We have some exciting new opportunities for your students and we want to make sure you are also aware of them.  Here are a few of the top ones I want to highlight, the rest can be found throughout the newsletter.
Admissions Notifications – As you likely know, the U will be releasing our first round of first-year admission decisions on January 15, 2020 for students who had a complete application file by November 1, 2019.  I am supper excited about our admission notification this year as we are doing it all electronic via email.  This means that your students will not need to wait for the mail to arrive a day or two after our release date to learn of their admission decision.  Your students' admission decision will also include any initial University of Utah merit-based scholarship offer.  If there is not information about a scholarship, then the student was not offered one at this time.  Rest assured there are still other scholarship opportunities, discussed later in this newsletter, for students as spring semester continues.  Honors College acceptances will continue to be sent out via email this year and will arrive on January 15th, but in a seperate email. We are scheduling the emails to be sent either before school begins or afterwards to avoid any potential disruption during classes.  If you speak with a student who is expecting notification but did not receive it, please have them contact our office.
New Summer Bridge Program – We are piloting a Summer Bridge Program this year for students who are on the admission bubble.  The intent of the bridge program is to create a launch pad for students who show potential for success at the U but may need a little extra support at the beginning.  Students admitted through this this program will receive their notification on January 15 along with the others.  A few notable aspects of the program include: students will be required to take two classes second term of summer semester and do well in both classes in order to be allowed to continue on Fall semester.  Students will also be required to live on campus during this time.  Tuition, fees, room, and board will be covered as part of program participation.  Summer Bridge students will have a dedicated orientation as well as a support team consisting of a student success advocate, an academic advisor, and a peer mentor.  Students admitted into the Summer Bridge Program but chose not to participate in the Program will have their admission rescinded.  Additional details about the Summer Bridge Program are found later in this newsletter.
February 1, Another Important U Application Date – Just a quick reminder that students who did not have a complete admission application in by November 1, can still submit a complete admission application (application, app fee, transcripts, and test scores) by February 1 and receive consideration for merit-based scholarships.  Additionally, all students who met either the November 1 or February 1 application dates AND submitted their FAFSA by February 1 will be considered for need-based scholarships.  We recently sent communications out via email and mail reminding students, who have at least started an application but it remains incomplete or we are missing official transcripts or test scores, of the February 1 application date.
Connecting Admitted Students with the U – Another significant change your admitted students will see this year are the number of opportunities that they will have to connect with the U as they finalize their college decisions.  We are increasing the number of off-campus events both in-state and out-of-state in the months of February and March.  The biggest change though will be with our Red White & U program.  Rather than have one large admitted student day on-campus in April, we are moving to our Future Freshman Friday events that will begin in February and run through April on most Friday afternoons.  Each of these events will provide time for students to visit select colleges, meet with Scholarships and Financial Aid, tour campus, and visit with Admission to answer any remaining questions they have.  We are still looking to have a Red White & U event in April but it will be more of a tailgate/celebration that is connected to the Red & White spring football scrimmage game.  All in all, we are working to create more and earlier opportunities for your admitted students and families to get their remaining questions answered and determine if the U is right for them.  Of course, your students are always welcome to join us for our daily campus visits.
These are just a few things we want to share with you.  There is much more useful information found in the rest of the newsletter.  We are always looking for ways to enhance how we give you the information that you want and need.  Feel free to share your thoughts through the survey link found at the end of the newsletter, reach out to your assigned admissions counselor, or reach out to me directly via email at mateo.remsburg@utah.edu and you can find me on Twitter @mremsburg.
Wishing you a great start back to school, a new year, and a new decade.  Thanks for all you do to support your students and the University of Utah.
Sincerely,
Mateo Remsburg, Ed.D.
Director of Recruitment
The For Utah Scholarship
As you may recall, last November we announced the For Utah Scholarship as a way to increase access to the U. This initiative covers four years of tuition and fees for Pell Grant-eligible Utah residents who are first-time freshmen with a high school GPA of at least 3.2. To be considereed, students will need to file their FAFSA. You can learn more about the For Utah Scholarship here! We are working to put together a series of Saturday morning breakfasts in various locations in February to answer questions students or families may have.
The SUMMER BRIDGE PROGRAM
We are excited to introduce the Summer Bridge Program! This program provides select students a unique transition into their U of U education. This program will be run by Undergraduate Studies. A few key points of the program include the following:
Program Key Facts
Students will need to sign a contract agreeing to the following terms of the program:

Pay (or have a waiver) of the enrollment deposit by May 1.
File a FAFSA for the 2019-2020 academic year and for the 2020-2021 academic year.
Students will need to enroll in six credits for 2nd summer session and at least 12 credit hours for fall semester. Courses will be determined by the student and their academic advisor
Students will need to earn no less than a "C" in each class with an overall GPA of no less than a 2.5. Fall registration will be canceled for students not meeting these requirements.
Students will need to live on campus for the five-week summer session of the bridge program (June 18-July 29).
Enroll in fall and spring semester LEAP sections
Work closely with an assigned peer mentor and a Student Success Advocate during summer session and through the next fall and spring semesters.

Students offered admission into the summer bridge program are not eligible to defer their admissions as this is a pilot program and we are not sure what this program may look like a year or two in the future.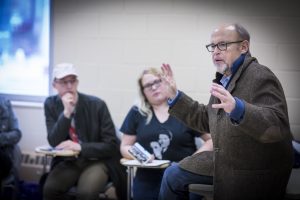 Scholarship INformation
Beyond our merit scholarships, there are additional scholarships from entities across campus available to students. Your students can find more information on these oppurtunities and apply for them here!
---
ACCESS: Supporting Women in Science and Mathematics
College of Science
The ACCESS Scholarship provides freshmen and transfer students with a supportive path into STEM degrees and careers. Students with a passion for STEM, who are committed to advancing gender equity in science and engineering, are invited to apply. ACCESS welcomes and supports students majoring in all STEM disciplines. The ACCESS Scholarship and first year experience is valued at $4500.00.The scholarship covers all educational expenses associated with ACCESS, including a monetary award, summer residential experience (freshmen live on campus), and earning upper division course credits.
Deadline to apply is March 1, 2020. Go to science.utah.edu/access/ for more information.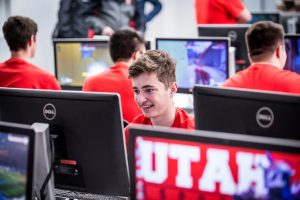 Utah Higher Education Day (UHED)
Our admissions counselors are excited to visit your school during the spring junior UHED tour. This is a great opportunity for your students to learn more about the U!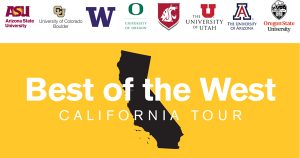 Best of the West: California Tour
We will be visiting high schools for the Best of the West tour along with other Pac-12 schools. California students can register here sarting January 13th.

Win $30K in the High School Utah Entrepreneur Challenge
The High School Utah Entrepreneur Challenge (HSUEC) is an opportunity for students to showcase their innovation and entrepreneurial spirit, and win $30,000 in cash and prizes. All Utah high school students, ages 14-18, are welcome to compete. Register by Feb. 19, 2020. The program is managed by the Lassonde Entrepreneur Institute at the U and sponsored by Zions Bank.
Learn More

Lassonde Entrepreneur Institute
Get involved to follow your passions, learn by doing and bring your ideas to life! All students at the University of Utah are invited to join the community of entrepreneurs, innovators and makers at the Lassonde Entrepreneur Institute, a top 10 ranked division of the David Eccles School of Business.
viewbooks
---
Want to get an inside look at campus and learn more about the opportunities available to students at the U? Check out our 2019-2020 viewbooks below for out-of-state and in-state students!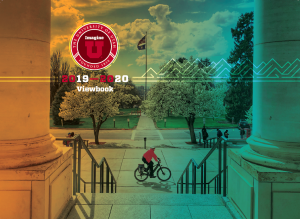 Thank you to all the students who have applied so far! We are still accepting applications for the Fall 2020 semester! Please encourage your students to apply online.
Letters of recommendation and personal essays are not required for an application for admission to the University of Utah. To keep the admission evaluation process consistent across all applicants, the Office of Admissions does not review letters of recommendation and personal essays submitted with an application for admission. However, students applying to the Business Scholars Program or the Honors College will be required to submit an essay as part of the application for admission to be considered for entry into either program.
We urge students to complete the additional information section of the Common Application for our team to get a more complete background of the applicants.
Students can track their application here: admissions.utah.edu/track/.
Please note that official high school transcripts and official ACT/SAT scores are required for an application to be considered complete. 
Students can request a fee waiver through the Common App. However, the counselor they identify on their application will have to verify the student qualifies for the fee waiver through the Common Application as well.
If the waiver is not submitted through the Common Application then students can find the NACAC Freshman Fee Waiver Form on the following webpage: admissions.utah.edu/fee-waiver/. The completed form can be sent to admissions_feewaiver@utah.edu.
Official transcripts can be sent through one of the following electronic services, by mail, or in person.
Electronic Transcripts:

Common App
Credential Solutions
Parchment/Naviance
National Student Clearinghouse
eScrip-Safe
Scoir
         Mail or in Person:
The University of Utah Office of Admissions
201 South 1460 East, Room 250S
Salt Lake City, UT 84112

Reminder! Please have students use the same name on their transcripts when they sign up for the ACT/SAT.
Those who complete their application by our second 

early action date, February 1, 2020, will receive their admissions decision on March 1, 2020.
Students who submit a completed admission application after February 1 will be admitted on a rolling admissions basis with notifications going out daily beginning March 15, 2020.
The 2020-21 Free Application for Federal Student Aid (FAFSA) is available at fafsa.gov. The University of Utah's school code is 003675. Students can learn more about filing the FAFSA and scholarship resources at the University Office of Scholarships and Financial Aid website.
The U participates in the Western Undergraduate Exchange (WUE) and more information can be found here.
Do you know who your admissions counselor is? We assign a counselor to each school to be your go to person for all things U of U. You can find your assigned counselor here.