high school university program at the u
Earn college credit now.
Save on College Costs Later.
Start your college career while still in high school with the University of Utah's High School University Program (HSUP).
Open to high school sophomores, juniors, and seniors attending accredited schools, you can complete many of your required college General Education courses now while you're in high school!
We are no longer requiring the submission of the Counselor Recommendation Letter!
Special Tuition Rate*
$5 per credit!
That's only $15 for a 3-credit hour college course.
Standard College Freshmen rate for 3-credit hour class is $1,344.30!
Save over $1300 per class! 
*Fees are still applicable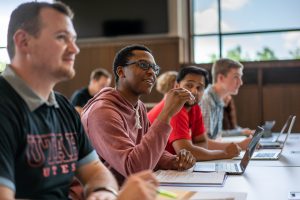 Benefits of hsup
---
Typical HSUP Class Selection

(actual classes may vary from semester to semester)

Classes offered on by the U:

English 1010
Math 1050
Math 1060
American History
General Biology
Intro to Humanities
General Psychology
American National Government

Current Application Requirements

*no longer requiring the submission of the Counselor Recommendation Letter

New HSUP Applicants:

- New Student Application
- High School transcript
- Parental consent form

Returning HSUP Students:

- Returning Student Form
- High School transcript

Spring Registration Deadline: November 1st
Interested? Great! We can't wait to see what you accomplish through the High School University Program