Welcome, Counselors!
---
From application to scholarship information, we have gathered some useful links for high school counselors. This quick reference site is an exciting resource, keeping you up-to-date on the latest and most important information the University of Utah has to offer!
If there is any additional information you would like to see added to our Counselor's Page, please contact Moana Hansen by email at moana.hansen@utah.edu. You can join our contact list here!
---
Fall 2022 freshman application deadline updates
---
The University of Utah has updated the Application Deadlines for Fall 2022 Freshman students.
Early Action Application Deadline
December 1
Notifications will be sent on January 15
Merit Scholarship Consideration Deadline
December 1
Notifications will be sent on Mid-February
Final ApplicationDeadline
April 1
Notifications will be on a rolling basis
2020 test optional update
---
The University of Utah is Test Optional for freshman applications for Fall 2021 admission. ACT/SAT scores are not required for admission, merit scholarships (including department scholarships), or direct admission programs (including Engineering). Freshman applications to the University of Utah for Fall 2021 will be evaluated using a holistic review process that takes into consideration factors such as a student's high school GPA, course rigor, etc.
Learn More About Test Optional
Sending transcripts
---
Students can submit a transcript by selecting a recommender through the Common App, or other ways to submit transcripts include:
Paper transcripts can be mailed directly from the high school or brought in an envelope sealed by the high school to:
             The University of Utah
             Office of Admissions
             201 South 1460 East, Room 250s
             Salt Lake City, UT 84112
Electronic transcripts can be requested through one of the following services:
Credentials Solutions 
Parchment/Naviance
National Student
Clearinghousee
Scrip-Safe
Scoir
If prompted for a recipient email address when ordering a transcript, please use admisstranscripts@utah.edu. Transcripts sent directly through email or fax will not be considered official.
2020-21 Prospective student Guide
---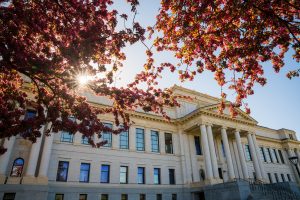 digital materials
Want to get an inside look at campus and learn more about the opportunities available to you at the U? Click the link below to check out our Prospective Student Guide!
2020-2021 Prospective Student Guide
2020-2021 Counselor Info Guide