HIGH SCHOOL COUNSELOR NEWSLETTER
---
February 2020 Newsletter
Welcome to February. This is another busy month at the U with several things that will be of interest to your students—preparation for the second round admission notifications on March 1 is underway, on-campus housing applications opens on February 10, Admitted Student Receptions for Utah residents begin February 11, first round of financial aid offers sent out February 20, and Future Freshman Fridays begin February 21.  You can learn more about all these opportunities in the newsletter below.
On a final note, how are you going to take advantage of the extra day this month?  How about some well-deserved R&R? Thank you for all that you do to support your students and the University of Utah.
Sincerely,
Mateo Remsburg, Ed.D.
Director of Recruitment
Mateo.remsburg@utah.edu
Scholarship INformation
Beyond our merit scholarships, there are additional scholarships from entities across campus available to students. Your students can find more information on these oppurtunities and apply for them here!
---
ACCESS: Supporting Women in Science and Mathematics
College of Science
The ACCESS Scholarship provides freshmen and transfer students with a supportive path into STEM degrees and careers. Students with a passion for STEM, who are committed to advancing gender equity in science and engineering, are invited to apply. ACCESS welcomes and supports students majoring in all STEM disciplines. The ACCESS Scholarship and first year experience is valued at $4500.00.The scholarship covers all educational expenses associated with ACCESS, including a monetary award, summer residential experience (freshmen live on campus), and earning upper-division course credits.
Deadline to apply is March 1, 2020. Go to science.utah.edu/access/ for more information. 
Housing & Residenital education scholarships
Housing has launched three scholarship opportunities for the 2020-2021 academic year. The scholarships can be found here. Applications are due March 16, 2020. Students will be notified about scholarship decisions on April 6, 2020.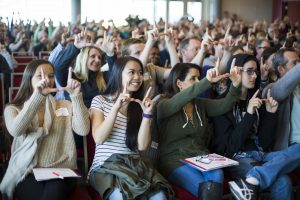 Admitted Student Events
Our admitted students events are starting this month! We have receptions around Utah and the West Coast, as well as our Future Freshman Fridays on campus. Students can register here.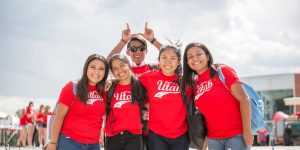 Honors Choice Days
Honors Choice days are designed for accepted incoming Honors students. Guests will participate in sessions covering an overview of Honors, Integrated Pathways, the student perspective and time with faculty and advisors. Students can register here!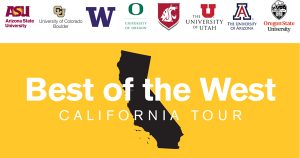 Best of the West: California Tour
We will be visiting high schools for the Best of the West tour along with other Pac-12 schools. California students can register here sarting January 13th.

Win $30K in the High School Utah Entrepreneur Challenge
The High School Utah Entrepreneur Challenge (HSUEC) is an opportunity for students to showcase their innovation and entrepreneurial spirit, and win $30,000 in cash and prizes. All Utah high school students, ages 14-18, are welcome to compete. Register by Feb. 19, 2020. The program is managed by the Lassonde Entrepreneur Institute at the U and sponsored by Zions Bank. Learn more here!

Passageways to the Law
Students are encouraged to join the University of Utah's S.J. Quinney College of Law for Passageways to the Law, a unique program highlighting the many opportunities and career options in the legal field. The event is Feb. 28, from 12 to 4:30 pm. Students can come see what it's like to be a law school student. The event is free and includes lunch! It is open to all students, particularly those of historically underrepresented communities. Learn more here.
College of Fine Arts
The University of Utah College of Fine Arts includes five vibrant and immersive academic units that are producing the next generation of creative makers and thinkers: Art & Art History, Dance, Film & Media Arts, Music, and Theatre. The CFA is where you can find your voice, fuel your passion, and ignite your future.
viewbooks
---
Want to get an inside look at campus and learn more about the opportunities available to students at the U? Check out our 2019-2020 viewbooks below for out-of-state and in-state students!